Efficiency. Flexibility.
Customization.
At Cortex, we've been perfecting the science of support and system implementation processes since 1983. Our reason for being is to help our clients work more efficiently.
Request Demo
Cortex Solutions
Medical Billing
Cortex RCM™ manages the complexities of billing with ease.
Learn More
Pathology Reporting
Our AP LIS reporting system, Cortex Gold™, is designed for streamlined and efficient work flows that ensure end-to-end high quality patient care with customizable and detailed pathology reports.
Learn More
Report Delivery
Cortex Courier™ is our reliable web-based report delivery system that distributes reports seamlessly to your clients.
Learn More
Latest Feature
Cortex Workbench™
Cortex Workbench is a new web-based module that increases the efficiency of even the most complicated histology labs. Customizable workflows define any type of lab work. Workbenches show lab personnel all pending work awaiting each step of each process. Barcodes track all items, reduce error rates, and drive the workflows. Automatic data collection allows real-time monitoring of lab workloads and helps managers proactively optimize their labs' operations.
Cortex is continually evolving and developing smart tools to deliver the best possible patient care. Cortex is dynamic. We anticipate the needs of our clients and deliver state-of-the-art technological solutions.
Learn More about Cortex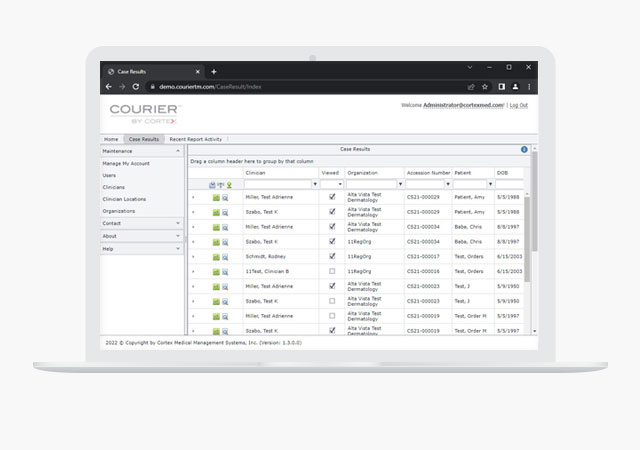 Primary Benefit
Innovation. Efficiency.
Cortex offers solutions that are built using best practices, industry knowledge and technical innovation to help our clients do more, more efficiently.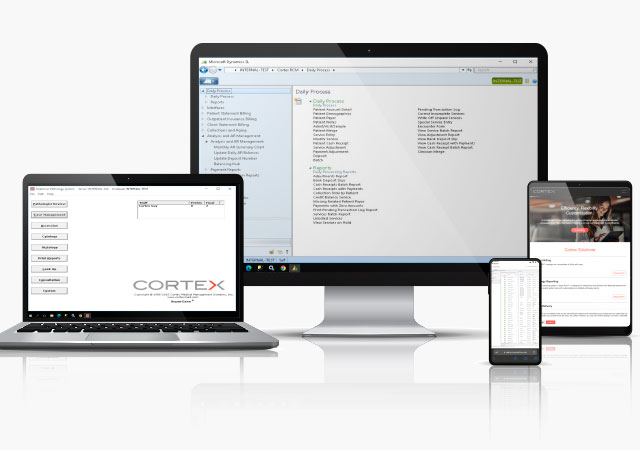 Primary Benefit
Reliable, Responsive Service
Cortex cares. Our clients are supported from day one by our reliable support teams who know your business and understand how to get things done.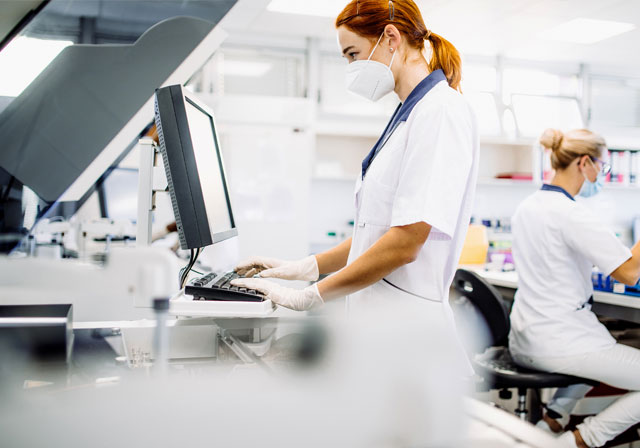 Primary Benefit
Unmatched Track Record
Since our founding in 1983, our goal has remained the same: to provide reliable innovative information systems that make billing and reporting easy. Our decades-long client relationships attest to our success.
Our Focused Markets
Cortex Clients Include Labs,
Universities and Clinics
Our mission is to provide comprehensive, transformative technology to our clients, backed by reliable service.
Pathology Labs
We produce customized workflows for your lab. Automatic data collection allows real-time monitoring of lab workloads and helps managers proactively optimize their labs' operations. With Cortex, deliver accurate, dependable and highly professional final reports.
Veterinary
The Cortex AP LIS allows you to focus on your fast-paced environment while resting assured that you are delivering timely and accurate results to your clients. Cortex enables you to deliver the most concise, readable, and accurate final reports with low administration and custom work flows.
Dermatopathology
We understand high-volume testing environments. Cortex delivers accuracy with fast turnaround times. Easily track consultations and slides with our robust and dependable LIS.
Hospitals
We understand your needs and the responsibilities you have to your patients. With Cortex you get the accuracy and timeliness you need to deliver the best patient care.
Universities
Cortex understands the importance of the educational aspect while delivering high quality, concise, readable and accurate diagnoses. With Cortex you can manage the complexities of the lab with customizable workflows. It is easy to query data, a powerful tool when working in an educational setting.
Other Specialties
Cortex clients also include physical therapy, emergency medicine, family practice, radiology, surgery and other specialties. Contact us today to learn how we can help you in your practice.